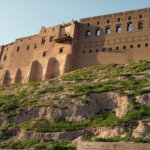 The United Nations Educational, Scientific and Cultural Organization (UNESCO) has officially recognized Erbil Citadel as a World Heritage Site during a ceremony held on Nov 2nd, 2014 and UNESCO will take part in the rehabilitation of the ancient site located in Iraqi Kurdistan. Erbil Citadel won a battle to get on the respected UNESCO World Heritage List on June 21st, 2014.
Archaeologists believe that the settlement on the site, which has risen by some 30 meters as successive settlers built on remains left by their predecessors, could be at least 6,000 years old. It has been claimed that the site is the oldest continuously inhabited town in the world.
The Citadel of Erbil is a rich historical repository holding evidence of many millennia of habitation; thousands of years old, it is the longest continuously inhabited site in the world. This longevity was made possible by the existence of abundant ground water, which has sustained the population throughout its long history. Based on the results of UNESCO expert missions, the Organization has developed a project proposal which is a very important preparatory component of a broader project, the Conservation Master Plan and Nomination file to subscribe the Erbil Citadel at the World Heritage List (WHL).
A memorandum of understanding was signed between Kurdistan Regional Government (KRG) and UNESCO on 2nd September 2007 to proceed with the first phase of the rehabilitation and restoration project of Erbil Citadel. Since 2007, several projects aimed at the conservation and revitalization of the Citadel have been initiated by the Kurdistan Regional Government and implemented through the High Commission for the Erbil Citadel Revitalization (HCECR) and UNESCO.