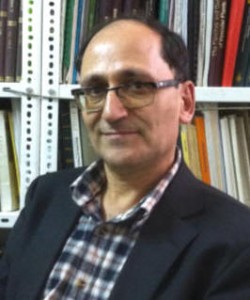 Dr. Hossein Akhani
The personality of the year 2014, for the category of "Environmental and Natural Heritage"
Professor H. Akhani, a plant biologist, an ecologist and expert in the field of environment and biogeography, has been recognized as the personality of the year in the category of Environmental and Natural Heritage, due to his:
 – Tireless efforts for registering and introducing the Iranian flora and geobotany of Iranian plateau
–  Collecting and gathering thousands of herbarium specimens of the many countries including Iran and, especially those of Golestan National Park
–  Founding and curating the herbarium of the Natural History Museum of Iran
–  Publishing many scientific articles on Iranian flora and plant diversity, as well as two major books on Golestan National Park
–   Teaching at university and expanding the education of environmental experts
–  Giving cautionary notices to the authorities and environmental activists
CURRICULUM VITTAE
Dr. Hossein Akhani
Dr. Hossein Akhani is Professor and Head of Department of Plant Sciences at the School of Biology, College of Science, University of Tehran.
Professor Akhani's research activities include: Flora and geobotany of Iran and other South West Asian countries, Ecology and biogeography of halophytes, Ecological distribution and phylogeny of plants and conservation and biodiversity. He has worked on flora and vegetation of Golestan National Park in North Eastern Iran and has collected 24,000 herbarium specimens from Iran, Germany, Italy, Turkmenistan, Pakistan, Uzbekistan, Turkey, Jordan, France, UK, United Arab Emirates, USA, Russia and Greece.
Professor Akhani received his B.Sc. in Plant Biology at the Shahid Beheshti University, Tehran, M.Sc. studies in Plant Biology at the University of Tehran, and his doctorate degree in Botany from Ludwig Maximillian University of Munich, Germany by an award of German Academic Exchange Service (DAAD). He has been the Founder and curator of herbarium of the Natural History Museum of Iran, has been contributed to the International Project of Flora Iranica (ed. K. H. Rechinger), and has been awarded Distiguished Research Project of the University of Tehran. Dr. Akhani has also been awarded an Alexander von Humboldt Research Scholarship to work in Botanical Garden and Botanical Museum Berlin, Germany, and has been a visiting research fellow at the Royal Botanical Gardens,  Kew in the United Kingdom.
Professor Akhani has had over 85 published scientific peered review articles and papers in 44 scientific journals and four book series, and two books on flora and plant biodiversity of Golestan National Park and has written other articles about environmental problems in various Iranian newspapers and websites. He has also been interviewed by Iranian national TV channels and radio stations.
---