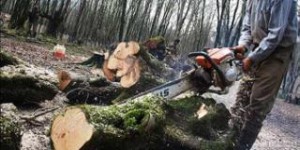 Two acres of forests and agricultural lands disappear per week in Iran.
The statistics published by NASA shows that every week two acres of forests and agricultural lands in Iran are removed from the face of the earth. The Environment Protection Authority, which is a governmental department in Iran, is reluctant to publish any statistics of its own or send any report on subject to International authorities.
Nevertheless, Mr. Kamaleddin Pir-Moazzen, the secretary of Environmental section of the Islamic parliament, has recently told the reporters that: "According to the present trend of erasing the forests in Iran, 1 Million acres of the Iranian forests could disappear within the next 5 years and if this trend continues at its present rate, Iran would not have any natural Forests." Wood smuggling is a lucrative and expanded activity in Iran and contractors, who obtain permits for cutting trees from the government, usually exceed the legal limits. The practice even includes the young newly-planted trees.