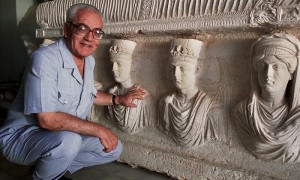 Today. August 19. 2015 Syrian state antiquities chief Maamoun Abdulkarim said Khaled al-Asaad, 82, who worked for more than 50 years as head of antiquities in Palmyra, was killed by Isis.
Asaad had been held for over a month before being murdered. Chris Doyle, director of the Council for Arab-British Understanding, said he had learned from a Syrian source that the archaeologist had been interrogated by Isis about the location of treasures from Palmyra and had been executed when he refused to cooperate.
Before the city's capture by Isis, Syrian officials said they moved hundreds of ancient statues to safe locations out of concern they would be destroyed by the militants. Isis was likely to be looking for portable, easily saleable items that are not registered.