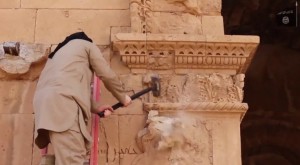 Only after a few short months and the major announcement that Palmyra had been freed from the control of Islamic terrorists, the group has returned to cause more destruction.
It was only in May 2016, when Russia marked the capture of Palmyra from Islamic terrorists by sending the Mariinsky Theatre to perform a surprise concert, highlighting the Kremlin's role in winning back the city. The concert as reported by Russian news agencies was held just over a month after Russian air strikes helped push Islamic militants out of Palmyra. However, it is not clear how and why the Russian forces and the Syrian government has now lost the control of the city and the unique heritage site. According to Reuters, the Syrian Government lost control of Palmyra to Islamic State in December, the second time the jihadist group had overrun the UNESCO world heritage site in the six-year-long Syrian conflict. It is believed that Islamic Terrorists came back into Palmyra again in December when the Syrian army and its allies were focused on capturing the city of Aleppo from the rebel opposition groups against Assad government. It has been reported that the destruction took place sometime between December 26 and January 10 as reported by the Reuters and, according to the satellite imagery of the site.
Islamic Terrorists had previously captured Palmyra in 2015. They held the city for 10 months until Syrian Government forces backed by Russian air power managed to drive them out in March 2017. During its previous spell in control of Palmyra, Islamic State destroyed other monuments there, including its 1,800-year-old monumental arch.
UNESCO director general Irina Bokova said in a recent statement that the destruction constituted "a new war crime and an immense loss for the Syrian people and for humanity" as stated on the UNESCO site on January 20th, 2017.