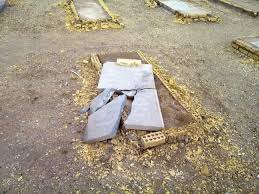 Late last week, the news came from Iran that the historic Baha'i cemetery in Shiraz, Iran is being destroyed. The reports indicate that workers for the Revolutionary Guards had already completed an excavation in the old cemetery that is believed to have disturbed many graves as reported by several groups. There have been reports that several appeals have been made to the authorities in Shiraz but the city authorities have made plans for constructing a building on the site.
The cemetery is owned and used by the Baha'is in Shiraz since early 1900s. However, after the Iranian revolution, the site was confiscated in 1983. In that year, the government destroyed the main building at the site and all the grave markers. It has been reported that there were over 950 Baha's buried in the cemetery including many who were killed in 1983 and a group of ten Baha'I women.
Since 1983, over 42 Baha'i –owned cemeteries have been destroyed in Iran and many Baha'is have been prosecuted and executed.