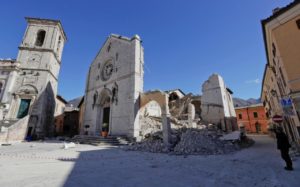 It has been a very difficult year for Italy as the country experienced several earthquakes and after-shocks since this past August.  In late October and again in early November, central Italy was hot again by more earth quakes.  On November 3rd, a magnitude 5.0 earthquake struck central Italy in the early hours of the morning in the same region hit by strong quakes in late October. This one was centered 32 miles (51.5 km) southeast of Perugia. In the hours after the quake, loss of life and security of people living in the region are of utmost important. 
However, as it became more obvious, the looters and thieves had other ideas in mind.  In the village of Nottoria, near Norcia, a small church was looted and a famous painting was stolen. The painting titled The Forgiveness of Assisi, was taken from a damaged church and was painted in 1631 by a French artist, Jean Lhomme, who also produced works for the then pope, Urban VIII. The theft of the painting was not the first case as more looting had been done after the previous earthquakes.  In fact, the Italian government is reporting that many of the churches, chapels and other monuments affected by the earthquake are in isolated areas and there are fears that more works of art could be targeted by looters and thieves.
After the several reports of thefts and looting, the Italian government has now deployed Italian soldiers to the mountainous region hit by the earthquake to guard against looters.  In fact, it has been reported by the news agencies that the patrols of the area are to increase, with soldiers joining forces with police and the paramilitary Carabinieri. Around 500 soldiers were deployed to the quake-hit zone, as reported the Italian defense ministry said.  Police are also searching churches, monasteries and convents damaged in the quake in order to recover precious artifacts.  The paintings, statues, crucifixes and reliquaries are being stored in a warehouse rented by the cultural heritage ministry.  In addition, fire fighters have erected large tarpaulins over the remains of the 14th century Basilica of St Benedict in Norcia, the most notable of the monuments damaged in the mountain town. It has been reported that the fire service used cranes to lift monumental oil paintings from inside damaged churches. 
The local people, who have already been traumatized by a number of earth-quakes, have seen destruction and loss of over 300 lives.  Early November's quake was the biggest to strike Italy in the last 36 years, but caused no deaths.