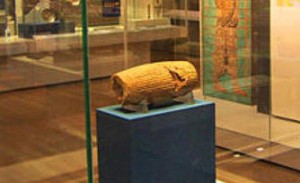 According to a report by British Museum, upon an agreement between Cultural centers and museums in the US, the "Cylinder" of Cyrus the Great will be available for viewing in exhibitions in Washington DC, Houston, New York City, San Francisco and LA.
This is the first time that Americans can see this important artifact on their soil, though a replica of the Cylinder is permanently on exhibit in UN building in New York City.
The name of the exhibition is "Cyrus Cylinder in ancient Pars" and it also includes sixteen other artifacts of historical importance. The exhibit is meant to show the contribution of Iranians during the reign of Achmenians in the Middle and Near East from 550 BC onwards.