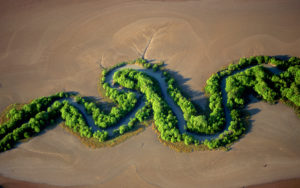 A new report by the UNESCO (United Nations Educational, Scientific and Cultural Organization), the United Nations Environment Program and the Union of Concerned Scientists, released earlier this month finds that climate change is a major threat to several of the world's heritage sites. The experts warned that many heritage sites that are very popular with tourists around the world could be impacted by climate change.
The report in addition identifies 31 natural and cultural World Heritage sites across 29 countries that are vulnerable to a range of climate change-related impacts, from increasing temperatures, melting glaciers and rising sea levels to extreme weather events, intensifying droughts and more frequent and more severe wildfires.  All the continents with the exception of Australia were looked at in the report. The Australian continent was originally included in the report, but its government requested it be removed because of concerns that the information would hurt its tourism industry.
The scientists reported that many factors including a rise in sea levels, intense storms and wildfires, are impacting these sites and planning at this point is critical in order to lessen the impact.  Some of these sites have already experienced impact from climate change as the experts warn.  These include Easter Island and Yellowstone National Park.
The information and data for the report was drawn from peer-reviewed science literature, technical reports and local experts, as well as domestic evaluations of the sites prepared for the World Heritage Committee.  Thirteen listed heritage sites were examined in comprehensive case studies intended to demonstrate the way climate change has already had an impact. In a study of the Statue of Liberty, for instance, the effects of Hurricane Sandy, which scientists have shown were exacerbated by a rise in the sea level, are explored at length. 
The report also includes a series of recommendations for government agencies, the tourism industry and heritage site managers. The experts believe that tourism, which is one of the largest and fastest growing economic sectors, will likely be affected by the dramatic changes expected at these sites, and so will the local communities that depend on that tourism.