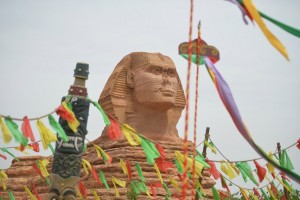 A Chinese replica of the iconic Sphinx will be dismantled and demolished after an Egyptian ministry complained about the structure as reported by the Sydney Morning Herald and other news outlets. The massive copy of the ancient statue in the northern province of Hebei has drawn a lot of criticisms from the Egypt's ministry of antiquities which has complained to the United Nations Educational, Scientific and Cultural Organisation (UNESCO) about the imitation.
China has been known for copying Western goods ranging from running shoes to champagne, and also building up its replica reputation with a miniature Mount Rushmore, an Eiffel Tower and an entire Austrian village. In the case of sphinx replica, the officials of cultural park on the outskirts of the provincial capital Shijiazhuang have stated that the imitation has always meant to serve only as a temporary scene for shooting movies and television dramas and that they are very respectful to world cultural heritage and express our apologies for any misunderstanding.
It has been reported that the film reported by the Chinese was supported by an entertainment conglomerate based in southern China's Hangzhou. The movie features a range of worldwide cultural heritages.
Egypt's Ministry of Antiquities called on UNESCO to implement the convention it signed in 1972 concerning the protection of the world's cultural and natural heritage. The 1972 UNESCO convention states that the right of identification, presentation and transmission of monuments to the future generation belongs only to the state that owns them. It emphasizes the importance of safeguarding and protecting unique monuments, as they are considered irreplaceable property to the people.