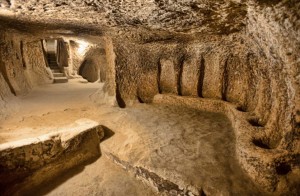 A massive 5,000 year old underground city has been discovered in Turkey by the country's Housing Development Administration (TOKI), according to reports Sunday.
Erdinç Çelikkan reports on what could potentially be the year's largest architectural discovery, an underground city located in Turkey's Central Anatolian province of Nevşehir.
The newly discovered city joins other such ancient cities found in the area, thought his one may end up being the largest of all the cities found so far.