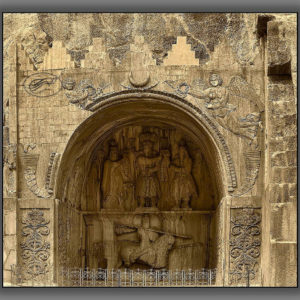 A powerful 7.3-magnitude earthquake struck western Iran late on Sunday November 12, causing relatively minor damage to several historic and heritage sites in Kermanshah and Ilam provinces.
"It slightly damaged five historical sites including a Safavid-era caravanserai and a Sassanid-era fortress in the counties of Qasr-e Shirin, Sarpol-e Zahab and Dalahu in Kermanshah province while assessing the damage is still ongoing," CHTN quoted Jalil Baalai, the provincial tourism chief, as saying on Monday.
The Cultural Heritage, Tourism and Handicraft Department dispatched several cultural heritage task forces to determine the extent of [possible] damage to each monument, the official said, adding "The five sites can be restored."
UNESCO-registered sites of Bisotun and Taq-e Bostan went unhurt, ISNA quoted Baalai as saying. 
Bisotun features a life-size bas-relief carving that depicts Achaemenid king Darius I and several other figures while Taq-e Bostan meaning "Arch of the Garden" is home to series of large rock reliefs from Sassanid era.