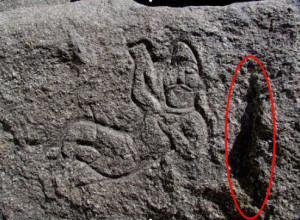 According to a cultural activist in Hamedan, Iran, certain parts of a bas-relief belonging to the period of the Parthian Dynasty in ancient Iran (247 BC – 224 AD) has been chipped and fragmented by unknown people.
The scene on the bas-relief depicts a man, leaning on a cushion, holding a goblet. He is wearing Mithraism hat, belt and outfit.
It seems that unknown people have unsuccessfully tried to clear around the bas-relief with explosive material.
This ancient work was registered as a national heritage in 2014. No relevant authority has shown any reaction to this unfortunate incident.
The notable fact is that the villagers living around this site had seen this bas-relief for centuries without attempting to destroy or disfigure it, but only one year after its registration as a national artifact those who are either known as "unauthorized excavator," or the smuggler of antiques, appear on the site with explosives and no one seems to care!