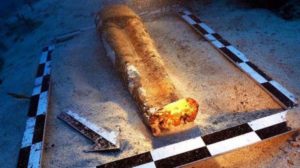 The 2,700-year-old sculpture, which is said to be the biggest one in the history of Turkish underwater history, found during examinations in a ship wreckage, which was unearthed last year in November, belonged to a Cypriot goddess.
The works, carried out by Dokuz Eylül University (DEU) Marine Science and Technology Institute, unearthed the sculpture 43 meters under water, and is reported to date back to the archaic period.
According to Daily News The institute's Aegean Research and Application Center (EBAMER) Deputy Director and the head of the excavations, Associate Professor Harun Özdaş, , said the  This unique artifact belongs to a bare-footed woman wearing a long dress. It most probably is a goddess. We believe its original size is 1.20 centimeters. We failed to find the upper part of the sculpture as we had to stop our searches due to weather conditions. But we plan to start excavations in the region again this year.