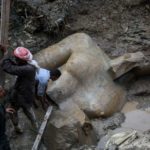 Archaeologists in Egypt discovered a massive statue in a Cairo slum earlier this month as reported by a number of news outlets.  The experts believe that the statute may be of Ramses II, one of the ancient Egypt's most famous and longest ruling pharaohs.
As reported a large portion of the head of the statute was pulled from mud and groundwater by a bulldozer was around eight meters (26 feet) high.  The large portion of the head which was removed from the ground was near a street market in the slums of Cairo.  However, the experts believe that it will be very difficult to excavate the area further as there are structures and buildings where people live.
The team of German-Egyptian archaeologists have said that this is an impressive find.  Ramses II, who took the throne in his early 20s as the third pharaoh of the 19th Dynasty, ruled Egypt more than 3,000 years ago. He is credited with expanding ancient Egypt's reach as far as modern Syria to the east and modern Sudan to the south. The expansion earned him the title "Ramses the Great."   Historians believe that Ramses II ruled Egypt for 60 years and besides his military exploits is known for being a great builder whose image can be seen at a string of sites across the country. Massive statues of the warrior-king can be viewed in Luxor, and his most famous monument is in Abu Simbel, near Sudan.
In November last year, Egyptian archeologists discovered a village and cemetery used by officials tasked with building royal tombs. The findings at the site some 250 miles (390 kilometers) south of Cairo included 15 large tombs dating back to the Early Dynastic Period, more than 4,500 years ago.