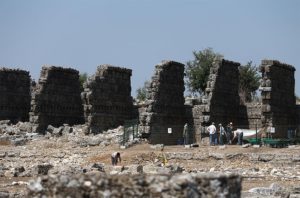 Two-thousand-year old shops and warehouses were revealed at an excavation site of the ancient Aspendos city, located in the Serik district of Turkey's touristic Antalya province.
Excavations in the the area where the ancient warehouses and shops were found started in 2008 with surface surveys, and turned into a ministry approved excavation site in 2014.
Associate Professor Veli Köse from Haceteppe University, who oversees the excavations, said he believes valuable materials were sold and stored in the recently discovered area, and that some of the sites might have been used as offices. The proximity of the shops to the city center support his views, he said.
Professor Köse also said that a wealth of coins dating back to the Hellenistic and Roman periods, a glass amphora, oil, pieces of perfume bottles, candles, bronze belt buckles, bone hair pins, plenty of nails, rings and gems were found during excavations at the site.
Köse said that the coins, made in the 5th century B.C., were widely used during the Hellenistic period.
The ancient city of Aspendos is one of the most frequented destinations for tourists visiting Antalya.
Aspendos has been listed as a UNESCO World Heritage Site since 2015