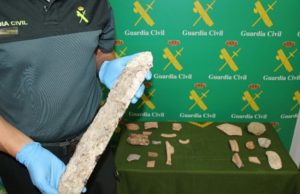 Late last month (January 2017) it was announced that collaboration between police from 18 countries had led to recovery of 3,561 stolen ancient artifacts. The Europol or the European Police Agency also reported that they arrested more than 75 people in the process as reported by the Guardian newspaper and other news outlets.
The items recovered included a marble Ottoman tombstone, a post-Byzantine icon depicting Saint George and hundreds of coins. The operation which was named Pandora took place in October and November, 2016. A major part of the operation was led by Spanish and Cypriot police who carried out checks on more than 48,500 people, about 50 ships and more than 29,000 vehicles. It has been reported that approximately 500 objects were uncovered in Murcia, south-eastern Spain, including 19 coins that had been stolen from an Archaeological Museum in 2014. In Cyprus, 40 ancient objects were found at the post office in Larnaca, near the island's main airport. It is believed that in addition to airports, post – offices and ships, police also searched internet sites, and art galleries for information and posts.
The officials have said that they are unable to put a total value on the total number of artifacts found, as experts are still going through the process of appraising everything. However, it is quite obvious that many of the retrieved artifacts are of great cultural importance to Syria where most of these items were stolen from. These artifacts were looted in Syria by the Islamist terrorists and many were going to be sold in London and other major cities and to private collectors. The police and experts believe that many relics and artifacts from the ruins of Palmyra and Nimrud as well as other heritage sites are still being smuggled and sold in private global markets and even in British shops.