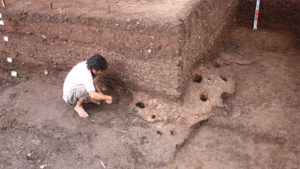 According to CNN, a team of archaeologists have unearthed a well-preserved ancient Roman neighborhood complete with mosaics and furniture on the outskirts of a city in southeastern France.  The discovery and the site of excavation is on the banks of the Rhone River in Vienne, where three new buildings have been planned to be built.
The team have expressed their surprise that the site is in such great condition as they believe that two separate fires almost destroyed the town in the second and third centuries AD.
Preventive excavations began in April, as the team worked to prepare the site for the new buildings.
It is now reported that France has classed the site as an "exceptional discovery," allowing the archaeologists, who were due to finish the excavation in September, to continue until December. The public will have a chance to view the archaeologists' findings, with exhibitions planned for 2019 and 2020 at the museum of Saint-Romain-en-Gal according to CNN.