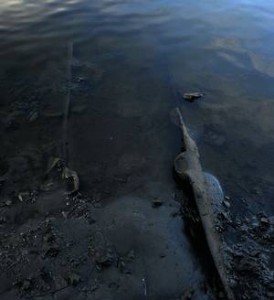 An ancient wooden log-boat, which could be possibly thousands of years old, has been discovered partly embedded in the banks of the River Boyne in Drogheda, Ireland.
An initial examination by archeologists, suggests that, the boat could be unique because, unlike other dug-outs or log boats found, it has a pair of oval shaped blisters on the upper edge. Similar boats have been found in the past in Northern Ireland and Britain but not in Ireland. Archeologists suggest that they could have been used for holding oars and this recent find could indicate that Drogheda could have other hidden treasures and more crafts could be found in the River Boyne. According to archeologists, River Boyne is such an important river and crafts have been operating on it since the Stone Age. Such vessels can get swept downstream towards the estuary so there might be a concentration of them in the Drogheda area. Such boats were in use from prehistoric times to transport people, goods and invading tribes.
The boat was found by members of the Boyne Fishermen's Rescue and Recovery Service (BFRRS) as they were carrying out one of their regular operations to remove shopping trolleys from the Boyne as reported by Irish Times. It is believed that the recent heavy rainfall and the introduction of waste water treatment has led to a lot of sediment and silt being removed from the river bank and this could be possibly the reason why the boat has become visible for the first time in hundreds of years.
Despite its short course of only about 112 kilometres (70 mi), the Boyne has major historical and archaeological significance. The Battle of the Boyne, a major battle in Irish history, took place along the Boyne near Drogheda in 1690 during the Williamite war in Ireland. It passes near the ancient city of Trim, Trim Castle, the Hill of Tara (the ancient capital of the High King of Ireland), Navan, the Hill of Slane, Brú na Bóinne (an archaeological site), Mellifont Abbey, and the medieval city of Drogheda.