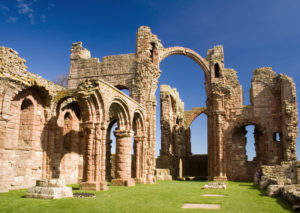 Expert archaeologists are excited but not surprised that an amateur archaeologist has unearthed what is believed to be evidence of one of England's earliest Christian monasteries in a dig on Lindisfarne. The project was supported by £25,000 which was crowd-funded by 200 donors in North East England. Sixty of people who actually donated to the project took part in the dig.
Project leader Lisa Westcott Wilkins and Project co-director Dr David Petts, of Durham University call the project a "stunning find" according to BBC. The experts believe that what has been found date from around the time the monastery was built in 635AD. The monastery was thought to be near the later medieval priory, the ruins of which remain, but there had been "no clear archaeological evidence to back this assumption up" according to BBC.
Lindisfarne is home of the 1,300-year-old Lindisfarne Gospels. Northumberland's patron saint, St Cuthbert was an abbot of its monastery. Lindisfarne is also famous for its mead, a honey-based liqueur.