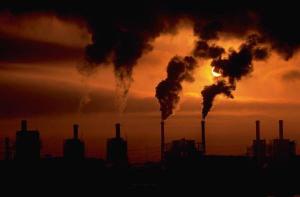 The United States and China pledged Wednesday, November 12, to take ambitious action to limit greenhouse gases*, aiming to inject fresh momentum into the global fight against climate change ahead of make-or-break climate talks next year.
President Barack Obama announced that the U.S. would move much faster in cutting pollution, with a goal to reduce it 26 percent to 28 percent by 2025 from 2005 levels. Earlier in his presidency, Obama set a goal to cut emissions by 17 percent by 2020.
Chinese President Xi Jinping, whose country's emissions are still growing as it builds new coal plants, didn't commit to cut emissions by a specific amount. Rather, he set a target for China's emissions to peak by 2030 or earlier if possible. He also pledged to increase the share of energy that China will derive from sources other than fossil fuels, such as solar and wind.
Both leaders were attending the Asia-Pacific Economic Cooperation (APEC) summit, hosted this year by Beijing. Their two countries have long been at loggerheads over global targets, with each saying the other should bear more responsibility for cutting emissions of gases blamed for heating up the atmosphere. 
——
* A greenhouse gas is a gas in an atmosphere that absorbs and emits radiation within the thermal infrared range. This process is the fundamental cause of the greenhouse effect. The primary greenhouse gases in the Earth's atmosphere are water vapor, carbon dioxide, methane, nitrous oxide, and ozone. Greenhouse gases greatly affect the temperature of the Earth; without them, Earth's surface would average about 33 °C colder, which is about 59 °F below the present average of 14 °C (57 °F).