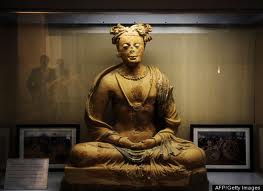 For centuries, Afghanistan has held the ruins and artifacts of history and its past scattered and buried around the country. However, war and conflicts have resulted in many of its antiquities being stolen, smuggled and sold in the international markets to the highest bidders. 
Experts believe that more than 90% of the countries archeological sites have been looted. 
According to International Council of Museums (ICOM) which has placed Afghanistan's antiquities on a Red List, the great archeological heritage of Afghanistan is now at serious risk from organized destruction and plundering at the hands of looters. The National Museum of Afghanistan in Kabul has been looted and is missing a great part of its collection, much of which has found its way into the international art market and private collections. Ancient sites and monuments, ranging from the Old Stone Age to the 20th century are being attacked and systematically looted.
Objects of all types and materials, from prehistoric times to the Indo-Greek, Buddhist and Islamic periods are being lost. Sculpture, architectural elements, ancient manuscripts, bronzes, wooden objects and ceramics are being illegally exported at an unrelenting rate according to ICOM. The Red List includes many objects from ancient pottery and ceramics, coins, manuscripts to fragments of wall paintings to Buddhist sculptures.
The people of Afghanistan have continued to suffer great loss in human lives, personal properties, and the deliberate destruction of monuments, museums, and artifact collections during a number of wars and conflicts since the early 1980s. And in addition, they are now witnessing the loss of their cultural heritage by looters who are pillaging archeological sites and traffickers who are smuggling artifacts out of the country. As we have reported here at WCHV, selling stolen artifacts will continue as long as these traffickers and smugglers have access to international markets and buyers who do not care about how the artifacts have made it out of the country and are willing to buy these stolen artifacts.
The question as always remains as to how the international community can stop this systematic and deliberate destruction and loss of country's national heritage. To assist in stopping the looting and destruction of Afghan archeological sites, ICOM has published the Red List of Afghanistan Antiquities at Risk, as a tool for law enforcement authorities, and to raise public awareness.