By Faryar Nikbakht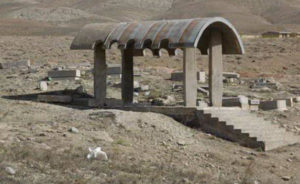 Following years of destruction, vandalism, encroachment and neglect of the ancient Gilliard cemetery, and after tireless efforts by cultural activists – in particular, the small remaining Iranian Jewish community – the Iranian Cultural Heritage Organization has finally agreed to register this site in the national cultural heritage list, designated as entry number 31691.
Jewish captives had been taken to different regions of Babylon and parts of the future Persia by Nebuchadnezzar, before King Cyrus the Great of Persia freed all the Babylonian captives, including the Jews who were then allowed to return to their motherland in Jerusalem, to remain within the Iranian territories or go to any place they preferred. Many Jews decided to stay in Iran and to start new lives in Persian cities as free and proud citizens.
In addition to Biblical texts, the existence of ancient Jewish grave sites and shrines such as those of Prophet Daniel in Shush, Esther and Mordechai in Hamedan, Sarah Beth Asher in Isfahan and Habakkuk in Tooiserkan and many other sites, attest to the Jewish presence in Iran for several millennia.
According to historical evidence and research, the presence of Jews in Gilliard near Damavand – as the original inhabitants of area – dates to the year 3,368 of the Hebrew calendar, during their diaspora, corresponding to 409 BCE.
The Jewish people named this area "Gil'ad" after one of their old cities in ancient Israel, which literally means "eternal pillar" or "memorial pillar".
The Gilliard (AKA Gillard or Jilliard) cemetery is located next to the Gillavand Highway, on the way to the Damavand village in the foothills of the majestic Damavand dormant volcano. The large numbers of graves both in the old section and in the more modern one, demonstrate that the Jewish population in the area was quite large.
Unfortunately, due to the circumstances, Jewish Iranians moved to larger cities and eventually sought refuge in free and safe countries abroad, to the tune of 90% of their pre-1979 population.
It is said that a wall is going to be constructed around this historical site to protect it from vandalism.