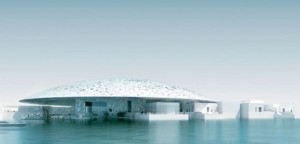 The Louvre Museum is the world's most visited museum, attracting up to 10 million visitors annually and it used to be just one in the world until the United Arab Emirates agreed to pay 400-million-euros ($553 million) over 30 years to house a branch in Abu Dhabi in a deal signed with the French government in 2007 according to Reuters.
Abu Dhabi hopes to eventually lure tourists to its own branch of the Louvre museum, once the doors are open to the public in December 2015. However, some of its treasures have gone on display at the Louvre in Paris until July 28, 2014.
"Birth of a Museum: Louvre Abu Dhabi" is a presentation of works from across the globe, which will eventually be part of the Abu Dhabi museum's permanent collection which has been built up with the help of advisers from the Paris Louvre. These items include a gold bracelet decorated with lion heads crafted in Iran nearly 3,000 years ago, a Virgin and child painting by Giovanni Bellini and paintings by Pablo Picasso and Henri Matisse.
The museum which was designed by architect Jean Nouvel is a 64,000-square-meter (690,000-square-feet) structure, and one of three museums planned on an island near the center of Abu Dhabi.
The plans to open a Gulf branch of the Louvre originally sparked major concerns in France. However, such worries were brushed aside by the French government.
UAE is France's largest trading partner in the Middle East, and Abu Dhabi also hosts France's only military and naval base outside of Africa, and the only French-speaking university in the Gulf, a campus of Paris's Sorbonne University. In 2010, the UAE also invested over 2 billion euros into France primarily in real estate acquisitions. The Louvre agreement includes sharing expertise in the acquisition of works of art and curatorship, as well as training and apprenticeships for future Emirati curators.