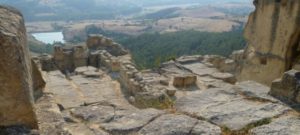 Professor Nikolai Ovcharov's archaeological team working at the ancient sacred site of Perperikon in Bulgaria has discovered more than 80 tombs in a necropolis estimated to date from the 12th to the 14th centuries CE.
The number of tombs found, in the southern section of Perperikon, is expected to increase to more than 100, an announcement about the July 2017 find said.
Ovcharov said that in 2016, his archaeological dig team had uncovered 37 tombs, containing what he described as some very interesting finds, including earrings, other jewellery and beautiful ornaments.