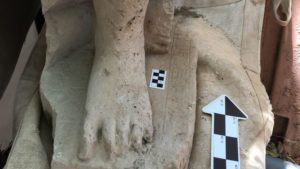 According to a report published by haaretz The feet of a 4,000-year old monumental Egyptian statue has been discovered in the northern Israel.
The archaeologists think The statue probably began its career in the official's tomb or in a temple – possibly a temple of Ptah, the god of craftsmen and architects.
The hieroglyphics carved onto the statue's base include praise to the official, and the usual Egyptian funerary formula ensuring an eternal supply of offerings to the statue's owner.