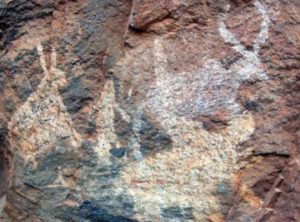 According to the study published in the Cambridge Journal of Archaeology, Scientists have discovered ancient cave paintings, dating from at least 2,500 years ago, on a tiny Indonesian island that was previously unexplored. The team uncovered a total of 28 rock art sites on the island of Kisar which measures just 81 square kilometres and lies north of Timor-Leste.
The paintings help tell the story of the region's history of trade and culture, researchers said.
"Archaeologically, no one has ever explored this small island before," said Sue O'Connor, from the Australian National University. "These Indonesian islands were the heart of the spice trade going back for thousands of years. The paintings we found depict boats, dogs, horses and people often holding what look like shields," said Prof.O'Connor.
The discovery pointed to a stronger shared history with the neighbouring island of Timor than had previously been known. "The Kisar paintings include images which are remarkably similar to those in the east end of Timor-Leste. These paintings perhaps herald the introduction of a new symbolic system established about two thousand years ago, following the exchange of prestige goods and the beginning of hierarchical societies" he added.