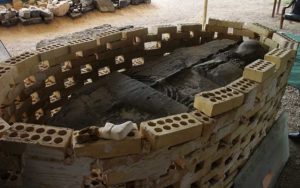 According to a report published on the Iranian site " Aftab Net Daily", the Black Bardak Palace and its valuable contents, those which belonged to the Iranian emperor Darius the Great around 500 B.C., are in a rapidly stage of deterioration.
The palace was discovered and unearthed by a group of Iranian archaeologists headed by Ehsan Yaghmaei, in the city of Bushehr in southern Iran. It is mainly made of two kinds of black and white stones, unique in color and structure. A large amount of gold has also been discovered that is believed to be the cover of wooden doors of the palace. From the beginning of the excavations, the archaeologist came to believe that this palace might have been larger and more luxurious than Persepolis.
Due to unknown reasons, however, the Cultural Heritage Organization of Iran stopped further excavations ten years ago and the site was left without any security and control.
During this long period, the remains of the palace, including the columns and black murals, have been deteriorating due to the lack of supervision.
One of the unique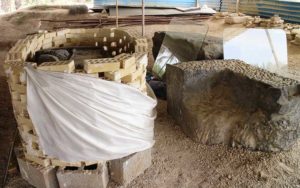 artifacts discovered in the palace is a bas-relief depicting Darius and his entourage, very similar to the bas-reliefs in Persepolis. The artifact possesses written lines of Babylonian calligraphy, and was put inside a short oval wall made of bricks, held together by mortar and then covered in textile material. Experts believe that the penetration of water can damage the stony bas-relief.
The existence of other scattered broken stones and smashed artifacts at the site show the extent of many unauthorized excavations.
It is interesting to note that the palace was registered in the list of national treasures of the country but never received any due maintenance and control.
In an interview with the head of the archaeological group, Ehsan Yaghmaei has expressed his utmost apprehension about the situation, adding that the Cultural Heritage Organization of the country has been reluctant to publish a book that details the two seasons of excavations at this ancient site.