Statement of Pasargad Heritage Foundation on Cyrus Day, Oct. 29, 2017.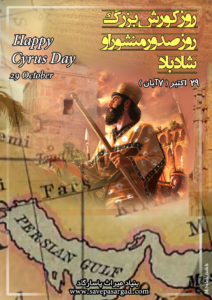 For the fifteenth year we are approaching the Cyrus Day on October 29th which is the anniversary of the day when Cyrus the Great announced his Declaration of Human Rights on a clay cylinder. The occasion is celebrated by many people in and outside Iran. After many centuries, the Iranians have come to recognize the unique values of a great historical personality belonging to their motherland. They gather at his tomb and adjacent city and give tribute to his name and memory. These activities highlight the importance of this event and Cyrus Day. It is an important event which reflects the natural inclination of Iranian people in celebrating this day.
The reason behind this vast attention to Cyrus and his declaration is twofold. On one hand it is due to the elevation of peoples' understanding of human rights in this age of information and, on the other, it is a reaction towards the harsh and difficult situation, created and imposed on them by the Islamic Republic.
Today in the 21st century and information age, human beings cannot (and should not) live under oppression and inhumane conditions. Humanity has survived centuries of bitter experiences and has been able to create a world that, though still full of pain and misery, is enlightened by that brilliantly crafted document called the Universal Declaration of Human Rights. Unfortunately, Iranians are today deprived of these very rights and, at the same time, have come to know that their ancient leader of 2550 years ago was the one who initiated the understanding of such rights. They compare the backward laws of Islamic Republic of Iran with Cyrus' Declaration and their hearts are full of sorrow. Confronting the differences between the two sets of laws, makes them appreciate what Cyrus had done for his time.
Cyrus appears to be the first man in history who thought of his peoples' rights, their freedom of religion and opinion, while negating slavery, releasing slaves and focusing on the well-being of his people. These facts cannot be ignored and these rights of Iranians should today be considered as part of their cultural heritage.
Iranians are cognizant that Cyrus was neither a prophet nor a saint. He did not walk on water, could not resuscitate the dead and was unable to cause splitting of the moon. Nevertheless, by giving the people the right to choose their own religion, and therefore their destiny, he led the way in creating a nation of free decision makers. Thus, paying homage to him, especially in a time when his children are deprived of their basic rights, becomes ever more significant and timely.
Pasargad Heritage Foundation, the entity that first suggested the observance of Cyrus Day, 15 years ago, invites all Iranians and Iran-lovers to pay their tributes to Cyrus wherever they are and celebrate his day with more glory and splendor than ever before. They are invited to contemplate the role Cyrus played in the history of humanity by bestowing the human race a declaration that could bring them happiness, peacefulness, and tolerance.
With love and best wishes for everyone.
Shokooh Mirzadegi
Pasargad Heritage Foundation
www.savepasargad.com