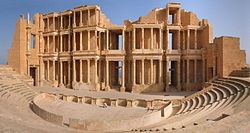 According to the UNESCO and other news outlets, on 21 September, UNESCO was informed by several sources that military action is intensifying within and around the Archaeological Site of Sabratha in Libya, inscribed on the World Heritage List since 1982. According to these reports, military action has been growing within and around the site and therefore, UNESCO is expressing concerns on the matter.  UNESCO has now called on all parties to cease violence and ensure the protection of Sabratha's invaluable cultural heritage, including its archaeological museum. The UNESCO's Director-General underscored the need to protect cultural heritage in times of conflict, as recently urged by the UN Security Council in its Resolution 2347.
The World Heritage Archaeological Site of Sabratha, once a Phoenician trading-post that served as an outlet for the products of the African hinterland, was part of the short-lived Numidian Kingdom of Massinissa before being Romanized and rebuilt in the 2nd and 3rd centuries A.D.
UNESCO has also reiterated its commitment to work with all Libyan cultural professionals to reinforce emergency measures for cultural heritage protection, and enable the rapid assessment, documentation and monitoring of heritage.