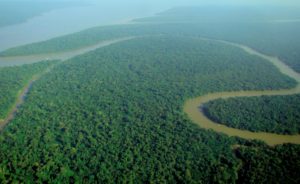 The new findings by a team of Brazilian and UK researchers provide new evidence for how indigenous people lived in the Amazon rainforest before European people arrived in the region.
The experts believe that the Amazonian rainforest was transformed over two thousand years ago by ancient people who built hundreds of large earthworks. In fact, the latest findings show that the ditched enclosures, in Acre state in the western Brazilian Amazon, were concealed for centuries by trees. And due to the recent deforestation more than 450 of these large geometrical geoglyphs have been discovered.
While archeologists are still not sure what the function of these sites were, they believe that the sites are unlikely to be villages, since archaeologists have recovered very few artifacts during excavations. In addition, the layout doesn't suggest they were built for defensive reasons. The archeologists believe that the sites were used perhaps sporadically as ritual gathering places.
These new discoveries challenge assumptions that the rainforest ecosystem has been untouched by humans.
The team of researchers used state-of-the-art technology and methods, and they reconstructed 6000 years of vegetation and fire history around two geoglyph sites. They found that humans heavily altered bamboo forests for millennia and small, temporary clearings were made to build the geoglyphs. The results of the research by the researchers from the universities of Exeter, Reading and Swansea (UK), São Paulo, Belém and Acre (Brazil) was published in the proceedings of the National Academy of Sciences. The research was funded by the Arts and Humanities Research Council, National Geographic, and the Natural Environment Research Council Radiocarbon Facility.