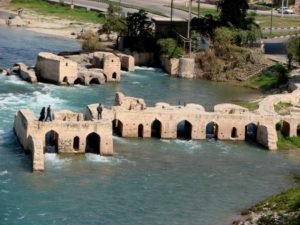 On April 16, 2016 the head of the Cultural Heritage office in Dezful, Iran, announced that, "due to the recent rainstorm in Dezful and the rise of water levels in the Dez River, a part of the historical water mills and the ancient bridge of this city have been wrecked, and some of the facilities are completely destroyed."
The ancient bridge and water mills built over the Dez River are 1700 years old and date back to the Sassanid Dynasty and King Shapur in Iran. Most of these mills were used before the beginning of the 20th century. The bridge has been repaired and rebuilt over the years by King Azdodole Deilami during the Saffavid and Pahlavi dynasties.
Professor Roman Ghirshman believes that the site represents the oldest water system in the world. The system was registered in the Iranian national list of historical sites and was on the verge of getting registered in the UNESCO list of world heritage sites.
Considering the site has been intact for many centuries, the present situation reflects a degree of negligence on the part of relevant authorities, despite the fact that the experts working for the Iranian Cultural Heritage Organization have repeatedly noted the dangers of heavy transportation activities over the bridge.
The real extent of destruction to the water mills and the bridge is still unknown.