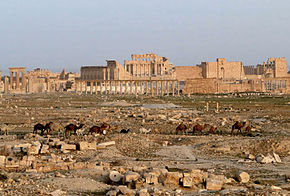 Just a few days ago, the Syrian forces recaptured the city of Palmyra and some of the images offer hope amid ruins. According to the reports in several international news outlets some parts of the ancient citadel seem to have survived occupation by Islamic Terrorists ISIS.
The Terrorist group has destroyed some of Palmyra's most treasured artifacts, including the Temple of Bel and the Arch of Triumph. However, some of Palmyra's ruins appear to have survived, including the Agora and the celebrated Roman theatre. The Photographs taken following the recapture of the city of the UNESCO world heritage-listed site, known as "the bride of the desert", show the damage made by ISIS during its 10-month occupation.
While many experts expected the worst, the Syrian government is now sending a team of archaeologists to Palmyra in the coming days to assess the damage to its monuments, and the government is pledging to rebuild the destroyed temples and arch.
However, another immediate danger still remains. It is believed that while the terrorists were leaving, they left hidden mines behind around the city and also in many historical and archeological sites. Therefore, the troops are now working on clearing mines from the town and its monuments, where numerous booby traps were laid down by the militants before their retreat.
The city of Palmyra and the area had been taken over by the ISIS terrorists in May 2015. The terrorists are responsible for damaging or destroying all six of Syria's UNESCO's World Heritage sites, which Palymra is one of. Other sites include the pilgrimage site of Bosra, Crac des Chevaliers – one of the most important and well preserved medieval castles – and Qal'at Salah El-Din. Aleppo and Damascus are also UNESCO sites and have suffered after fighting, along with the ancient villages of Northern Syria. 
A French team of digital surveyors from ICONEM are working with archaeologists from the Syrian Directorate General of Antiquities and Museums (DGAM) to preserve the historic sites by creating detailed 3D maps of the sites.