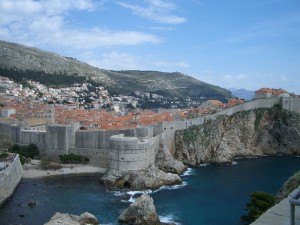 It looks like that another World heritage site has been confirmed as a filming location for Hollywood. The filming of the next Star Wars: Episode VIII is reported to begin soon and the beautiful city of Dubrovnik, Croatia is one of the filming locations. Star Wars VIII is expected to hit the big screens in December 2017.
A number of UNESCO World Heritage Sites have been chosen locations for the film Industry. Another World Heritage site, Skellig Michael, the remote Irish island recently captivated audiences in the final scene of Star Wars: The Force Awakens. Another factor that draws film studios to these locations is tax incentives in European countries that have been major boost local economies.
The walled city of Dubrovnik, overlooking the cobalt waters of the Adriatic Sea on the Dalmatian coast now joins the fast-growing ranks of World Heritage Sites that have played scenic roles in major movies. Often referred to as the 'Pearl of the Adriatic', the old city of Dubrovnik was inscribed by UNESCO as a World Heritage Site in 1979.
It is important to note that that Dubrovnik is hardly a stranger to the film and entertainment industry. The old town of the Croatian city was also a key filming site for the scenes of the King's Landing, the fictitious capital of the Seven Kingdoms in HBO's medieval fantasy drama series Game of Thrones.
The city was a Mediterranean sea power in the 13th century. Historically the capital of Republic of Ragusa, the origins of Dubrovnik is disputed to this day. However, it is traditionally said to have sprung in the 7th century on the then Laus Island as a shelter for refugees from the nearby Greek colony of Epidaurum. In 1997, the city suffered major damage from an earthquake, but thankfully some of the Gothic, Renaissance and Baroque architecture of the time did not suffer any damage. In the 1970s, and in the 1990s, the city was devastated by extensive armed conflict following the fall of Yugoslavia.