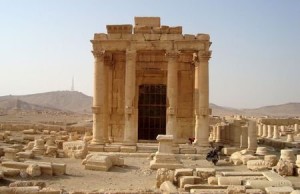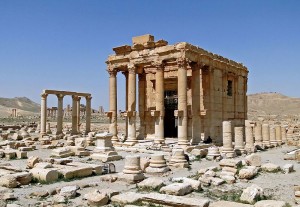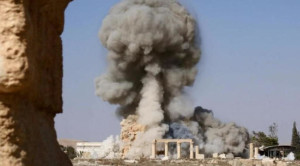 The Islamic State group on Tuesday August 25 2015 published images showing the destruction of the Baal Shamin temple in Syria's Palmyra, after international condemnation of the act.
The series of images showed militants placing barrels and small containers, presumably containing explosives, into the temple, as well as similar containers placed on parts of its columns.
The Temple of Baalshamin was an ancient temple in the city of Palmyra, Syria, dedicated to the Canaanite deity Baalshamin. The temple's earliest phase dates to the late 2nd century BC. It was rebuilt in 131 AD, while the altar before the temple is dated to 115 AD. With the advent of Christianity in the 5th century AD, the temple was converted to a church. Uncovered by Swiss archaeologists in 1954–56, the temple was one of the most complete ancient structures in Palmyra.
In 1980, the structure was designated by UNESCO as a World Heritage Site. As UNESCO puts it, "the art and architecture of Palmyra, standing at the crossroads of several civilizations, married Graeco-Roman techniques with local traditions and Persian influences."
The head of the UN's cultural watchdog, Irina Bokova, called the act a "new war crime and an immense loss for the Syrian people and for humanity."
Palmyra ancient ruins are a UNESCO World Heritage site and IS's capture of the town on May 21 raised concerns the group would lay waste to it as it has done with heritage sites under its control elsewhere.