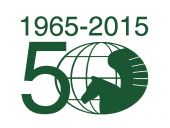 The Second Congress of Architects and Specialists of Historic Buildings, held in Venice in 1964, adopted 13 resolutions, the first being the International Charter for the Conservation and Restoration of Monuments and Sites, better known as the Venice Charter, and the second, put forward by UNESCO, provided for the creation of ICOMOS.
From 21 to 25 June 1965, the Constitutional and First General Assemblies of lCOMOS took place in Warsaw, Poland. Besides the delegates from 26 countries, representatives of three major organisations who had contributed to the creation of lCOMOS participated as observers: UNESCO, ICCROM, ICOM (International Council on Museums) and UIA (The International Union of Architects).
This year, 18th of April 2015 ICOMOS celebrates its 50th anniversary by honouring its founders and highlighting its achievements so far, but above all by reflecting on its future objectives through a series of international events and on the basis of a modernized set of Statutes and Ethical principles. 
18th of April, 2015