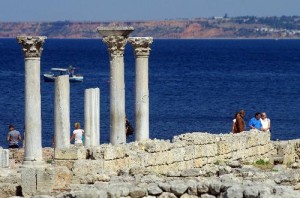 For the last two months the verbal battles over Crimea's cultural heritage have been going on with no end in sight. Crimea's heritage sites are many including the 16th-century Tatar Khans' palace in Bakhchisaray to the former tsarist residence that hosted the World War Two Yalta conference. These sites and artifacts which have witnessed extraordinary times in history are once again in the midst of conflict and contention and this time they are the subject (of contentions).
For now Kiev has prepared itself for a long legal battle, as Ukraine does not recognize Moscow's annexation of Crimea, and has considered Moscow's presence in Crimea an illegal occupation. However, losing the cultural and historic legacy of the Black Sea peninsula is another major blow.
As reported by Reuters, Ukraine's Culture Minister, Yevgen Nishchuk, said, Kiev was amending its laws to seek justice internationally should Russia start removing cultural goods from Crimea or take over formal supervision of the region's heritage sites. One of the major concerns is an exhibition, which was put together by five museums including four in Crimea. The items which are currently on display in Amsterdam are now the subject of debate and contention as both Crimea's pro-Russian authorities as well as Kiev claim ownership of the exhibition, titled "Crimea – Gold and secrets of the Black Sea", which features golden artifacts and precious gems dating back to the fourth century BC.
The show which has been operated by the University of Amsterdam started in February 2014 and is supposed to end in August 2014 (however, the museum's websites states June 2014 as the end date). The Allard Pierson Museum at the University of Amsterdam has stated that a legal investigation has started to determine to whom the collection should be returned after it closes.
Earlier this year (March 2014), Ukraine appealed to UNESCO  to protect cultural heritage sites in Crimea. In a statement by Ukraine's Minister of Culture Yevhen Nyshchuk, he expressed concerns and stated that: "On the territory of Crimea is the Khersones Tavriysky (Ancient City of Tauric Chersonese), which is inscribed on UNESCO's World Heritage List and which belongs to the Ukrainian state. We have been given the mission to protect it. However, since we no longer have physical access to the site in order to protect all the rarities and exhibits located there, which are priceless not only for Ukraine but also for the entire world, we appeal to UNESCO to help us". According to Ukraine government, Ukrainian scientists have lost all access to cultural sites after the military occupation of Crimea by the Russian Federation. Chersonese became a UNESCO World Heritage Site in 2013.