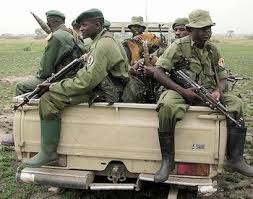 The recent sad news that Mr. Emmanuel de Merode, Chief Warden for Virunga National Park in the Democratic Republic of Congo (DRC) was ambushed and shot is only the latest in a series of attacks and assaults around the world against those who protect and preserve national heritage sites. While all of us are grateful for the fact that Mr. de Morde's condition is stable and he is recovering in Kenya, we are also hoping that more international guidelines and laws could create more support and security for these individuals.
According to Katy Scholfield, Synchronicity Earth website, in August last year, Ranger Kasereka Kipako was killed in an ambush of his patrol post. This had come just a month after two rangers were killed and seven others wounded while travelling from Goma to Rumungabo. More than 140 park rangers have been killed in Virunga in the last decade as reported by BBC. 
Rangers and park workers are targeted directly for a number of reasons. To many they present a threat to the income of militia groups, who are responsible for much of the illegal charcoal production inside the park. Rangers have also been targeted by the state – the organizations who are supposed to protect and ensure their safeguard. Ms. Scholfield also reported last year that Ranger Rodrigue Katembo Mugaruka was arrested and imprisoned in Kinshasa for trying to protect the park from British company, Soco International, carrying out oil exploration.
Earlier this month, Global Witness released a report titled: "Deadly Environment: The Dramatic Rise in Killings of Environmental Land Defenders."
The report actually revealed some very shocking statistics as outlined in the Scholfield's blog:
At least 908 people were killed in 35 countries protecting rights to land and the environment between 2002 and 2013, with the death rate rising in the last four years to an average of two activists a week.
The year 2012 was the worst year so far to be an environmental defender, with 147 killings – nearly three times more than in 2002.
Impunity for these crimes is rife: only 10 perpetrators are known to have been convicted between 2002 and 2013 – just over one per cent of the overall incidence of killings.
The problem is particularly acute in Latin America and Southeast Asia. Brazil is the most dangerous place to defend rights to land and the environment, with 448 killings, followed by 109 people Honduras (109) and 67 in the Philippines.
It is very obvious to all of us that more international laws with harsher penalties have to be mandated in order to safeguard those who make sure that the national heritage sites including Virunga National Park is protected and preserved for the future generations.
To read Katy Schonfield's original blog go to :
http://www.synchronicityearth.org/blog/2014/04/violence-increasing-towards-environmental-human-rights-defenders